Cliff Granberry Corp Hopper Conversion Kits
Converts existing hopper to 50% larger hopper opening allowing seed to flow freely with minimal bridging.

Hydraulically operated doors - quick/robust/infinitely adjustable seed flow.

Can be installed by customer - installation booklet included.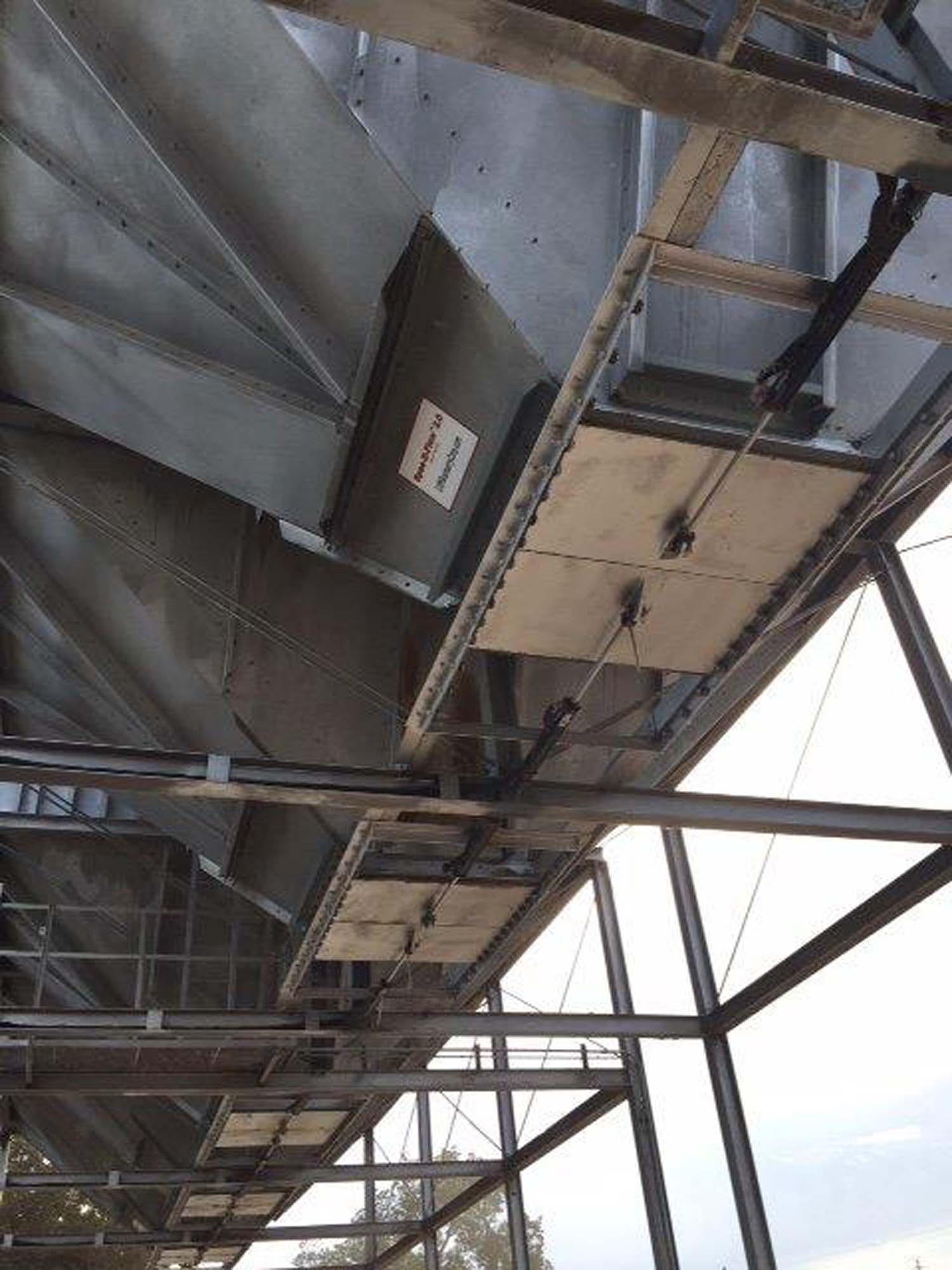 Available for:
Conversions are available for the following seed houses:
Granberry (pre 2013)

Triangle

Wonderstate
What's Included:
Hopper Conversion Kit (one per hopper) includes:
All structural steel components

All galvanized sheet metal components

All hardware

Hydraulic Hopper Door Assembly

Hydraulic Hose Assembly

Pre-engineered erection drawings

Installation Manual
Hopper Conversion Doors are operated by a hydraulic pumping system. As many as six hoppers can be operated from one pumping unit as long as only one hopper door assembly is opened or closed at a time. One pumping unit can operate multiple seed houses as long as they are located in close proximity to one another.
Pumping Unit and Control includes:
Pumping unit for operation of up to six hydraulic doors - 5 GPM, 2100 PSI, 7 - 1/2 HP

Pump Start Main Control - Custom designed as a Master Control to provide dual voltages for power and control. This unit incorporates a NEMA 3R rain-tight enclosure that contains a main disconnect / circuit breaker with the motor starter / electronic overload relay system. The pre-wiring facilitates ease of field-wiring so that the electrician only needs to provide one three-phase service to this main unit.

Door Control Valves / Manual Lever Operated
"Granberry has taken time and labor out of seed loading and has provided a safer working environment."
Danny Moses
Moses Gin, Inc
Wharton, TX
"The conversions work great and the seed really comes out fast."
Rick Riley
Sconyers Gin & Warehouse
Sycamore, GA
More Customer Reviews
"My seed flows without bridging and the doors are trouble free. My seed trucker loves them."
AARON HENDRICKS
Floydada Co-op Gin – Floydada, TX
Adams Land Company – Leachville, AR
"The conversions make our overhead seed houses so much safer and we're loading trailers in a couple of minutes now. The man that operates our seed houses loves the hydraulic doors."
Caprock Gin, Inc., - Ralls, TX – Don Crump
"I am pleased with the operation of the hydraulic doors."
Central Rolling Plains Co-op – Roscoe, TX – Larry Black
"The hopper conversions make our seed house work very well and we are pleased."
Coastal Bend Co-op Gin – Corpus Christi, TX – Mike Polk
"Installing seed house hopper conversions is the best thing that we've ever done for our gin. Our old seed house works great now!"
Coffee County Gin Co., Inc. – Douglas, GA – Eric Lott
"The conversions work beautifully. The seed flows right out and the hydraulic doors work well."
Darty Gin, Inc. – Dougherty, TX - Randy Purnel
"The seed trucks are in and out a lot faster since we put in the hopper conversions. It's safer too."
Farmers Co-op Gin – Carnegie, OK, Jeannie Hileman
"The conversions have greatly reduced our seed bridging issues. The seed trucks are loaded much faster now. Our truckers love our hopper conversions."
Heart of Georgia Peanut & Gin – Hawkinsville, GA, Jerry Davis
"The conversions are great. Since we installed them we have not had bridging problems."
King Mesa, Inc. – Lamesa, TX - Noel Morales
"Since we installed the conversions, our truckers have stopped complaining about our seed houses!"
Longtown Gin Co. – Mason, TN – Jim Wilder
"Our seed comes out with ease and trucks are loaded faster."
McCleskey Cotton – Dawson, GA - Keith Gill
"The hopper conversion is a big improvement. The seed flows out freely and trucks are loaded fast."
Owens Co-op Gin – Ralls, TX – Steve Newton
"We are very pleased with the conversions. The seed flows out without bridging."
Scruggs & Vaden Gin Co. – Florence, AL – Randall Vaden
"The seed house conversions have made the whole seed loading process more efficient."
Spade Co-op Gin – Spade, TX - Curtis Stewart
"We tried hopper conversions on one of our seed houses. They worked so well that we put them on our second seed house too."
Ten-Hi Gin Company – Loop, TX – Mark Owen
"The hopper conversions have made our seed houses work properly. The truckers love them."
Texas Producers Cooperative – Sudan, TX – Guyle Roberson
"The conversions work well. When the doors are opened the seed flows fast."
Texas Producers Cooperative – Amherst, TX – Guyle Roberson
"The conversions are fantastic. We have had no seed bridging since the installation."
The Southern Gin Co. – Pelham, GA - Barry Strickland
"With the conversions we're loading trucks much faster. It's improved our efficiency."
Tri-County Producers Co-op – Loop, TX – Randy Reid
"The hopper conversions worked so well that we added them to our second seed house as well."
Tunica Gin Company – Tunica, MS - Joe Brown
"Our overhead seed houses are much safer now. When the hydraulic doors are opened, the seed comes right out."
Vanderbilt Farmers Co-op – Vanderbilt, TX
"Our truckers really like the conversions because they are in and out quickly."
Wall Co-op Gin & Elevator – Wall, TX - Mina Abbott
Worth Gin Co – Sylvester, GA – Gilbert Haskins
"The conversions are working great and the truckers love them."
Annual Maintenance Recommendations
All proper safety precautions should be taken by all personnel who perform maintenance and repairs on elevated seed houses.
Clean out all seed.

Clean hopper panels to remove seed oil. Many gins report good results with steam cleaning.

Make the hopper surfaces smooth again! Many gins report good results with a sander or steel brush.

Examine for stress fractures and loose hardware. Repair or replace as necessary.

Remove rust and corrosion.
Add proper guards or fall protection devices on exterior inspection ladders.

Post decals "DANGER - DO NOT ENTER AREA BELOW HOPPER DOORS WHEN SEED IS IN STORAGE HOUSE." Decals are available at no charge from Cliff Granberry Corp.

Add Hopper Conversion Kit if the seed house is in reasonably good condition.

If repairs are too extensive, replace with new Elevated Seed House.
Download the Hydraulic Hose Layout & Diagram for detailed information.
Cliff Granberry Corporation is the industry leader in elevated seed house safety innovation.