Cliff Granberry Corp Elevated Seed Houses
Steeper Hoppers with 10-Gauge Steel allow seed to flow freely and minimizes bridging.

50% Larger Square Hydraulic Doors means quick, robust, infinitely adjustable seed flow.

Engineered to withstand 130 MPH winds while fully loaded.

Conversion Kits available for most seed houses. Learn More >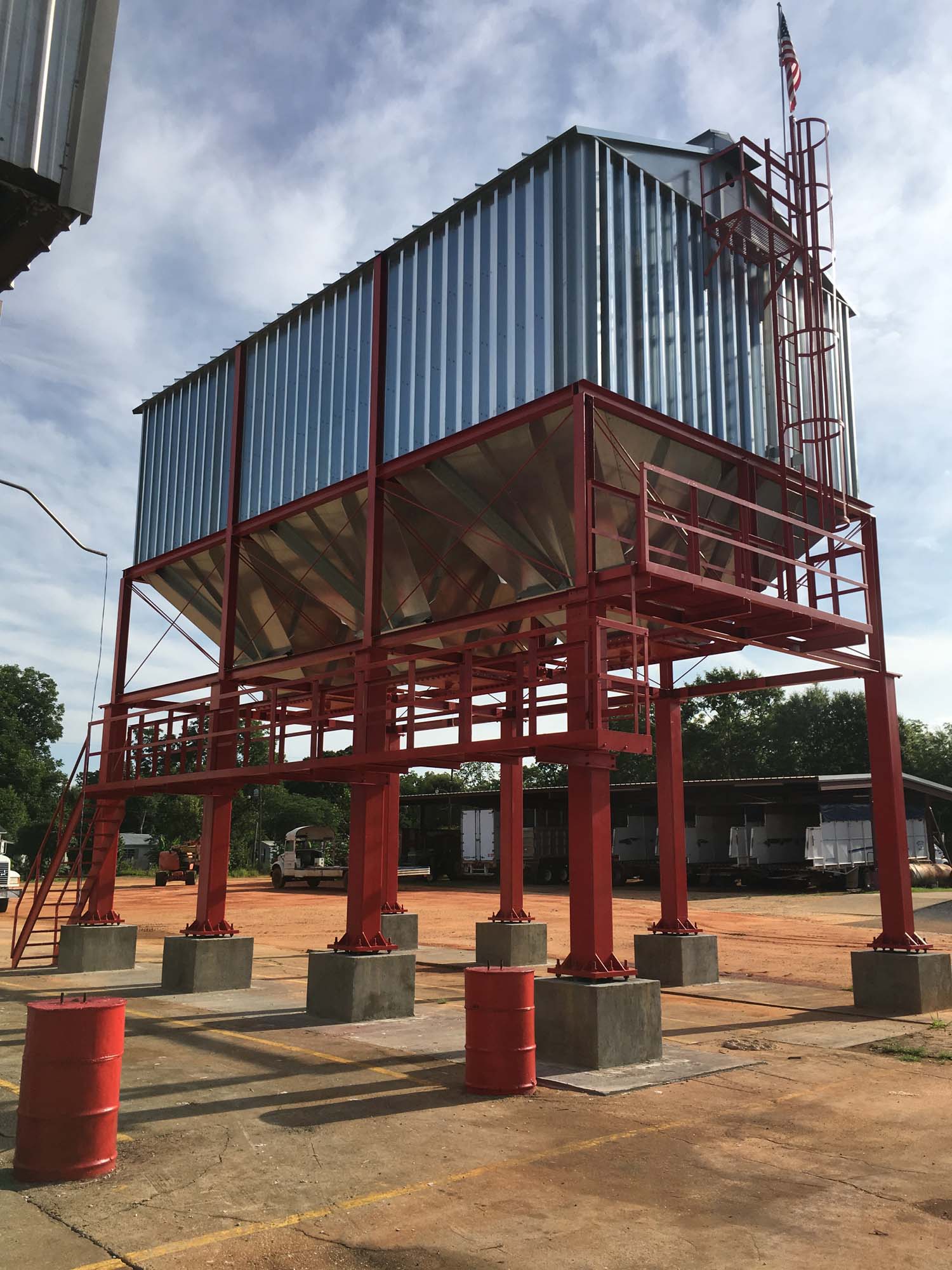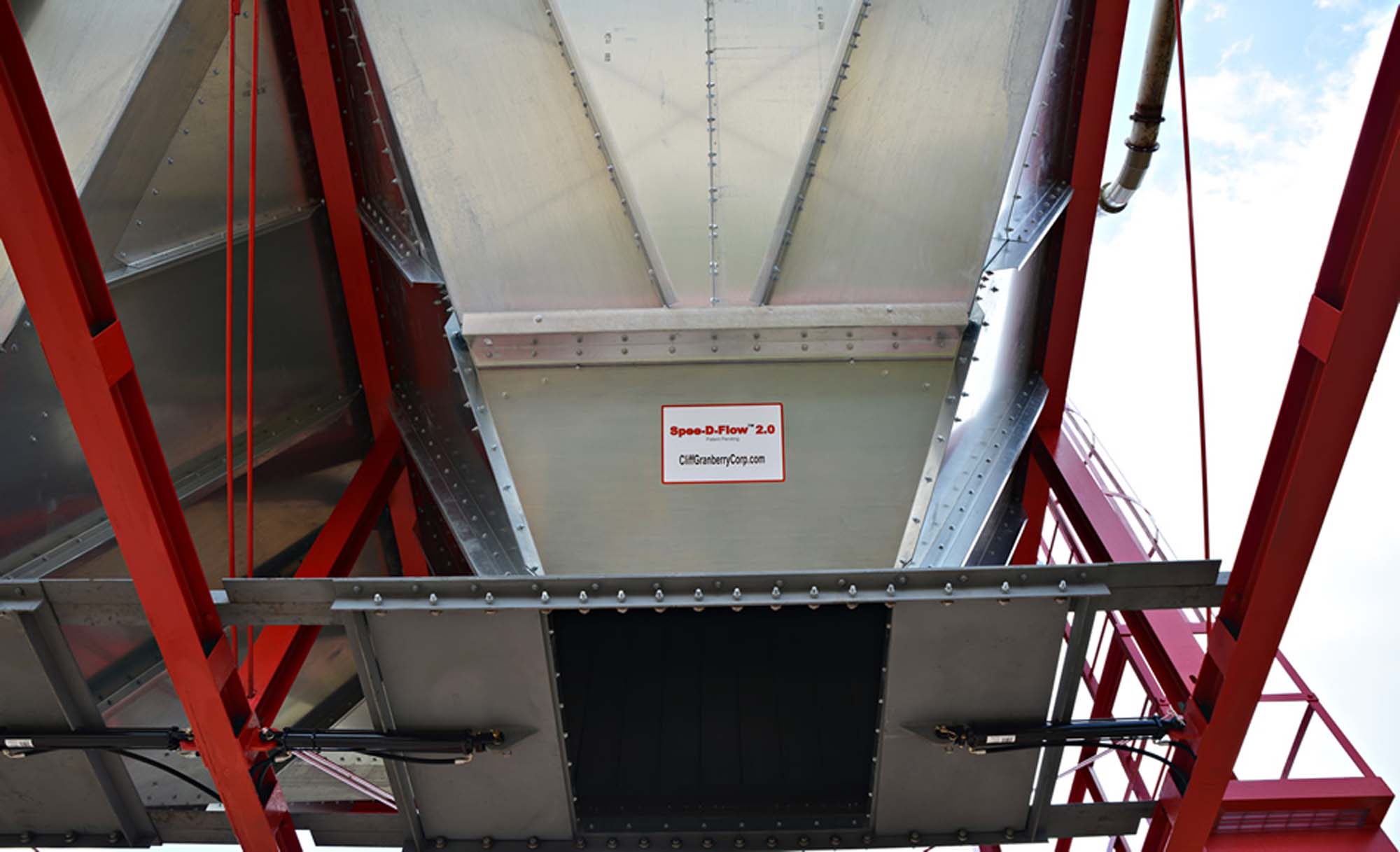 Sizes
Single-Hopper (48.5 U.S. tons)

Double-Hopper (97 U.S. tons)

Triple-Hopper (145.5 U.S. tons)

Quad-Hopper (194 U.S. tons)
What's Included:
All structural steel components

All galvanized sheet metal components

All hardware

Anchor bolts including installation template

Hydraulic hopper door assembly

Pumping unit for operation of up to six hydraulic doors Note: As many as six hoppers can be operated from one pumping unit as long as only one hopper is opened or closed at a time. One pumping unit can operate multiple seed houses as long as they are located in close proximity to one another.

Pump Start Main Control - Custom designed as a Master Control to provide dual voltages for power and control. This unit incorporates a NEMA 3R rain-tight enclosure that contains a main disconnect / circuit breaker with the motor starter / electronic overload relay system hand-off-auto/start controls, and an over-sized control transformer. The pre-wiring facilitates ease of field-wiring so that the electrician only needs to provide 240/480VAC three-phase service to this main unit.

Hydraulic Door Control Valves / Manual Lever Operated

Hydraulic hose assembly

Pre-engineered Erection Drawings

Foundation Drawings

Trailer viewing catwalk mounted with the walking surface approximately 9-1/2 feet above grade

Complete erection of structure is available in most areas.
Specifications:
The primary components of the structure are totally bolted which allows for expansion or relocation.

AIR RELIEF VENTILATION SYSTEM: The air relief ventilation system, which has an 18" cupola the full length of the roof, allows the bins to be filled to capacity. The cupola also provides room for a customer installed seed auger leveling system.

Truck clearance: The standard clearance is 14' 6" but it can be any height that the customer desires.

Hopper panels are 10-gauge galvanized steel

Structural columns - 12" X 12" x 3/8" square tubing with 1-3/4" gusseted base plate with 8 - 1-1/4" anchor bolts for each column.

Pumping Unit - 5 GPM, 2100 PSI, 7 - 1/2 HP

Overall height - 37.5' (based on 14.5' truck clearance)

Pre-engineered erection drawings and foundation drawings

Conversion Kits available for most seed house brands

Shipping weight:

Single-Hopper - 20,000 lbs.

Double-Hopper - 33,000 lbs.

Triple-Hopper - 48,000 lbs.

Quad-Hopper - 61,000 lbs.
"We really like the safety and the speed of this seed house."
Billy Sickler
Associated Growers Co-op, Inc. – Athens, AL
"… Cliff Granberry Corp has an excellent reputation and they have been building seed houses for 50 years."
Buzz Cooper
Texas Star Co-op Gin – Wilson, TX

More Customer Reviews:
"When our old seed house failed we chose to replace it with the Spee-D-Flow 2.0 because of its reputation for safety, efficiency, and reliability."
TOM SUMNER
Doerun Gin Co. – Doerun, GA
Armistead Gin Company – Coushatta, LA – Ed Lester
"We're loading seed a lot faster with the new seed house and my seed hauler loves to come to my gin. When he opens the doors, the seed comes right out."
Bayside-Richardson Co-op Gin – Woodsboro, TX – David Wyatt: "The new seed house is safer and it has reduced our labor cost."
Center Point Gin – Levelland, TX – Chris Berry
"Our new seed house is fantastic! Granberry's quality, service, and followup is excellent."
Farmers Co-op Association – Big Spring, TX – Tommy Montgomery
"With the big doors, the seed comes out fast. The new seed house is safer and more efficient."
Farmers Gin of Humboldt – Humboldt, TN – James Wages
"With the large two piece hydraulic doors, we can fill a trailer fast and top it off at a controlled flow rate, which allows us to load the maximum weight without going over the limit."
Gulf Coast Cooperative - Robstown, TX – Chris Yaklin
"Of all of the equipment that we put in the gin this year, the new overhead seed house is the one thing that we didn't have any trouble with. It operated as advertised. We used to have a lot of trouble getting the seed to come out, but that problem is solved with the new seed house."
La Feria Co-op Gin – Harlingen, TX – Ed Landry
"The big hydraulic doors work great! The seed comes out fast and doesn't bridge."
Midway Gin Co-op – Taft, TX – Michelle Lang
"Our new seed house is safer & faster. Our seed truckers love it!"
McNutt Gin Co. – Boyce, LA – Therrell Pierce
"The seed comes right out and we really like how we can manage the load with the hydraulic controls on the catwalk."
Oak Grove Gin Company – Somerville, TN – Tommy Moore
"The new overhead seed houses work well and we're pleased with all that you have done for us.
North Delta Gin Company – Marks, MS – Bubba Hewlett
"Trucks are loaded and tarped in just 5 to 10 minutes with our new seed house". Even wet seed comes out without a problem."
PPF Gin & Warehouse – Lake Creek, TX – Pat Pilgrim
"Trucks are loaded very quickly with our new overhead seed houses. Cliff Granberry Corp has done everything that they said they would do."
Rainbow Gin Co. – Blountsville, AL – Larry Poole
"The new seed house is much safer, so efficient, and much easier to operate."
RGV Gin – Harlingen, TX – Bob Duncan
"The new Granberry seed house works great. Every time the doors are opened the seed flows out freely. I like the heavy duty way that this seed house is built."
Ross Gin Co – Mercedes, TX – Buddy Ross
"The new seed house has eliminated the seed bridging problem and it loads the trucks much faster."
Scruggs & Vaden Gin Co – Florence, AL – Randall Vaden
"Our new seed house has made the whole seed loading process more efficient."
Yorkville Gin Company – Yorkville, TN – Jon Murray
"With this new seed house I can fill a trailer in two to three minutes. The only problem that I have is training the truck driver to move forward fast enough."
Valley Gin Co. – Shreveport, LA – Charles DeMoss
"The new seed house works great. The seed flows out really well. Our seed truckers love it."
Annual Maintenance Recommendations
All proper safety precautions should be taken by all personnel who perform maintenance and repairs on elevated seed houses.
Clean out all seed.

Clean hopper panels to remove seed oil. Many gins report good results with steam cleaning.

Make the hopper surfaces smooth again! Many gins report good results with a sander or steel brush.

Examine for stress fractures and loose hardware. Repair or replace as necessary.

Remove rust and corrosion.
Add proper guards or fall protection devices on exterior inspection ladders.

Post decals "DANGER - DO NOT ENTER AREA BELOW HOPPER DOORS WHEN SEED IS IN STORAGE HOUSE." Decals are available at no charge from Cliff Granberry Corp.

Add Hopper Conversion Kit if the seed house is in reasonably good condition.

If repairs are too extensive, replace with new Elevated Seed House.
Download the Hydraulic Hose Layout & Diagram for detailed information.
Cliff Granberry Corporation is the industry leader in elevated seed house safety innovation.